A special Overberg sighting: Fynbos Buttonquail chicks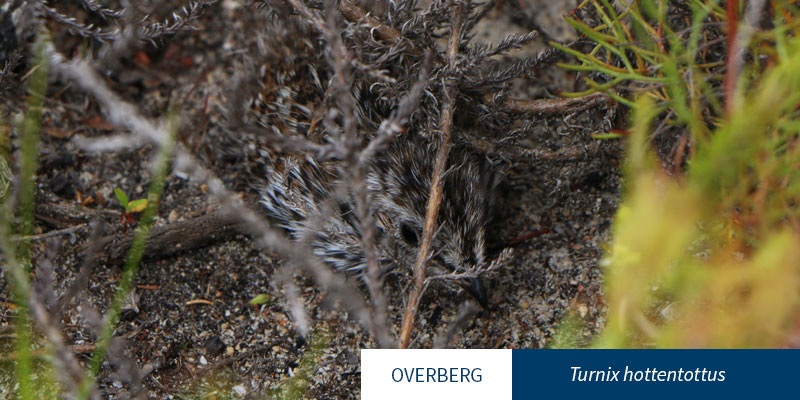 The Fynbos Buttonquail (Turnix hottentottus) is one of the most secretive fynbos bird species you can find.
That's why when Overberg Crane Group and Nuwejaars Wetlands Special Management Area (NWSMA) team members found a Fynbos Buttonquail parent – AND two chicks in the Nuwejaars area, it was cause for excitement.
It's not known how many Fynbos Buttonquail chicks have been documented over the years.
But given how difficult it is to flush the adult birds, and how little is known about the Buttonquail's breeding habits, this is believed to be a rare sighting.
Even the experts don't agree on the Buttonquail's conservation status…
The Fynbos Buttonquail (formerly known as Hottentot Buttonquail) is listed as Endangered on the IUCN Red List. But experts have vastly different estimates of the number of mature birds. The IUCN believes there are fewer than 1,000 mature individuals remaining in the fynbos, and that number is decreasing.
A recent study by Dr Alan Lee (FitzPatrick Institute of African Ornithology), Brian Reeves (Eastern Cape Parks & Tourism Agency) and Dale Wright (BirdLife South Africa) found the numbers could be considerably higher. Their study, which took place across the fynbos biome, concluded that there could be around 89,000 individuals.
The biggest challenge is how little is known about this secretive species. 
It's considered to be a fynbos endemic, which has the ability to disappear quickly in its habitat (its speckled rufous to light brown colouring helps camouflage the bird). Even during flush surveys, birds still have the ability to scuttle off, and are only flushed if they're close to observers. Very little is also known about how it breeds and how many offspring it raises.
The Buttonquail experts do agree on the threats to the species. The spread of invasive alien plants, agricultural expansion and changing fire frequencies in fynbos are all considered problematic for Fynbos Buttonquails. A changing climate could also become an issue for the species.
What happened in this case?
It was an afternoon drive in early November through Elim Ferricrete Fynbos, close to Africa's southernmost tip, in a conservation area protected through the Nuwejaars Wetlands Special Management Area. There was much excitement when a mature Fynbos Buttonquail suddenly silently took flight from the fynbos, to land a few metres further.
That's when more movement caught the eye of NWSMA conservation farmer (and OCG board member), Mick D'Alton. Two tiny chicks scuttled and hid in the fynbos – patiently waiting for their parent to return (and confident of their camouflage in the fynbos).
The conservation team briefly took a few photos from a safe distance, but moved on quickly to allow the chicks to be reunited with their parent, who was hidden a short distance away. While the team couldn't get photos of the parent, we could snap a few quickly of the chicks.
Some of South Africa's leading birding experts say that they're unaware of photos of Fynbos Buttonquail chicks, which makes this OCG and NWSMA sighting a special one!