OVERBERG CRANE GROUP COMMITTEE
The Overberg Renosterveld Conservation Trust, BirdLife South Africa, CapeNature, SAB Better Barley Better Beer, farmers and members of the Overberg community are represented on the Overberg Crane Group's executive committee. Many of the members contribute on a voluntary basis.
KEVIN SHAW
OCG CHAIR
Kevin recently retired from the Western Cape Nature Conservation Board as the District Conservation Officer.
MORE ABOUT KEVIN
Kevin began his career in the then Department of Forestry, working as a planner on the water catchment and drift sand areas of the south western Cape. He progressed to District Forest Officer and later District Conservation Officer, when he was transferred to the then Department of Nature Conservation for the Cape Provincial Administration, which later evolved into the Western Cape Nature Conservation Board. In 1995 he was appointed as one of two ornithologists for the province. He worked mainly with high priority species and participates in substantial collaboration with mainly tertiary institutions and non-government environmental organisations. Species that he has worked on include Blue Crane, Cape Vulture, African Penguin, Damara Tern, Cape Gannet, Coastal Cormorant species, waterbirds, House Crow and Mallard. During the early part of his ornithological career, he spent a substantial amount of time getting to grips with the challenges faced by Blue Cranes in an agricultural landscape and how the species has adapted to these challenges. The species therefore remain very dear to him, and where possible he still spends time in the field observing the antics of these special birds and more importantly involved with projects on the species.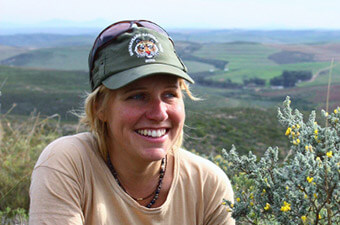 DR ODETTE CURTIS-SCOTT
COMMITTEE MEMBER
Odette is the founder and Director of the Overberg Renosterveld Conservation Trust.
MORE ABOUT ODETTE
She has a PhD in Botany from the University of Cape Town. She has also discovered three new plant species in Renosterveld – two of which have been named after her. But Odette has a strong interest in birds: she managed the Black Harrier & Black Sparrowhawk Projects at UCT from 2000-2006. She is also a former winner of the CAPE Fynbos Conservation Awards, winning in 2014.
ERICA BRINK
COMMITTEE MEMBER
Erica is the Conservation Manager of the Nuwejaars Wetlands Special Management Area. 
MORE ABOUT ERICA
Here she focuses on planning, development and monitoring. She previously worked for the City of Cape Town's Biodiversity Management branch, managing two reserves within the greater False Bay Nature Reserve: Pelican Park and Strandfontein Birding Area. Erica completed her B.Sc (with Honors) at the University of Sussex while travelling and studying in England. She obtained her M.Sc in Biological Sciences from the University of Cape Town in December 2016.
MICK D'ALTON
TREASURER
Mick is a co-founder of the Overberg Crane Group, and served as the Chair of the OCG between 2006 and 2016.
MORE ABOUT MICK
Mick is a farmer who has lived in the Overberg region since the early 1980s. He is also a well-known conservationist, having received the CAPE Fynbos Conservation Award in 2010. Mick is one of the founding members of the Nuwejaars Wetland Special Management Area – a conservation area operating across the landscape in the Overberg.
KEIR LYNCH
COMMITTEE MEMBER
Keir is the co-founder of the environmental consultant, Bionerds.co.za. He also served as OCG Chair from 2016 to 2021.
MORE ABOUT KEIR
He has worked within the conservation management sector for numerous years at Klaserie, Phinda and Shamwari Private Nature Reserves, as well as the Sanbona Wildlife Reserve. Keir made the move from the private sector to work in the field of landscape conservation with the CapeNature Biodiversity Stewardship Programme, prior to joining the Overberg Renosterveld Conservation Trust in 2015 as Project Manager for their Watercourse Restoration Project. Keir also provides assistance to the Overberg Crane Group in the form of data collection and served as our extension officer in the past.
ALOUISE LYNCH
COMMITTEE MEMBER
Alouise is the co-founder of environmental consultants, Bionerds.
MORE ABOUT ALOUISE
She completed her Nature Guiding courses in 2003 and started her guiding career on a small wildlife reserve in the Western Cape. She was fortunate enough to get to know the Succulent Karoo through the eyes of some of the local "bossiedokters" (medicinal plant "shamans") of the Klein Karoo. This knowledge fuelled her passion for the smaller things in nature which lead to her taking up a guiding position on Sanbona Wildlife Reserve in 2005 and later as Wildlife Coordinator at Sanbona Wildlife Reserve in 2009. Her passion for people inadvertently landed her a position in Human Resources in the Mantis Collection, where she managed a staff component of over 150 people. In 2012 she took up the position as the Operations Manager of the Dyer Island Conservation Trust. 
Alouise is now a full-time Bionerds representative, developing the socio-economic arm of Bionerds to include a strong Environmental Awareness aspect, alongside Environmental Skills Development for in-field professionals. 
CHRISTIE CRAIG
SECRETARY & EXTENSION OFFICER
Christie Craig is a field worker and PhD candidate with the Endangered Wildlife Trust/International Crane Foundation Partnership.
MORE ABOUT CHRISTIE
Her work focuses on understanding the viability of Blue Cranes in the Overberg and Swartland, where it's estimated half of all Blue Cranes reside. Her research looks at how energy infrastructure, climate change and changes in agriculture affect the crane population, and what this means for the future of Blue Cranes in the Western Cape agricultural hub. Her work is supported by the Leiden Conservation Foundation, Dave Myers and Eskom. She is currently also the OCG's extension officer. In her spare time, Christie enjoys gardening and outdoor adventures with her husband and dogs.
REBECCA DAMES
COMMITTEE MEMBER
Rebecca works as a Plant Conservationist at the Grootbos Foundation.
MORE ABOUT REBECCA
Rebecca has been involved in the Grootbos Foundation since 2016 working in the conservation team as a plant conservationist. Her focus has predominately been on the conservation of critically endangered Elim Ferricrete Fynbos where she has mapped all remnant patches of this vegetation type and is actively working at restoring areas of this vegetation. While her passion lies with the flowers, she loves all elements of the unique Cape Floral Kingdom ecology. 
CHRIS MARTENS
COMMITTEE MEMBER
Chris is Managing Director of the Fynbos Trust, a Trust that supports landscape-scale conservation across the Overberg.
MORE ABOUT CHRIS
Chris' conservation career has spanned nearly four decades and has included management of protected areas in the catchments of the Drakensberg, Cedarberg and Langeberg as well as oversight of management of Nature Reserves such as De Hoop and Dyer Island as well as leadership of conservation extension teams. He was a key figure in establishing the Grootvadersbosch and many other Conservancies. Chris went on to establish and manage the Stewardship programme for CapeNature and continued to provide invaluable insight to landowners in this area and across the Western Cape. Based in Stanford, he is now the Managing Director of a company trading as the Fynbos Trust which enables and supports Landscape Scale Conservation in the Overberg. Here he provides support to organisations such as Flower Valley Conservation Trust, the Grootbos Foundation, the Overberg Renosterveld Conservation Trust, the Nuwejaars Wetlands Special Management Area, the Agulhas Biodiversity Initiative and many more. 
HEATHER D'ALTON
COMMITTEE MEMBER
Heather is the co-founder of LoveGreen Communications, a creative consultancy giving a voice to 'green' organisations.
MORE ABOUT HEATHER
She has spent many years in the conservation communications field, working as Communications Manager for Flower Valley Conservation Trust. She previously worked as a journalist in Johannesburg, London and Cape Town, for publications such as MoneyWeek magazine and business television station, Business Day TV.
WICUS LEEUWNER
COMMITTEE MEMBER
As a farmer and highly successful nature photographer, Wicus was naturally fascinated by our Blue Crane.
MORE ABOUT WICUS
He was a motivator in the early 2000s for the formation of the OCG and became a founder member and first Chairman, remaining in that until 2006. Wicus runs a business teaching photography and marketing his photographs – a job that takes him all over South Africa presenting and displaying. Here he always showcases the Blue Crane, raising awareness and creating interest in conserving our national bird.
DONELLA YOUNG
COMMITTEE MEMBER
Donella has been part of the Overberg Crane Group since 1999 when she began co-ordinating the CAR Project.
MORE ABOUT DONELLA
Donella has been part of the Overberg Crane Group (OCG) since 1999 when she began co-ordinating the Coordinated Avifaunal Roadcounts (CAR) Project at the Animal Demography Unit, Department of Zoology, University of Cape Town. These roadcounts monitor many threatened large terrestrial bird species, including the Blue Crane. Donella teamed up with James Harrison to compile a booklet encouraging farmers to conserve biodiversity on farms and giving trends in numbers of particular species. She has an MSc in Zoology and a teaching diploma, both from UCT. Donella is currently training as a Field Guide, and continues her concern for birds and conservation.
DR GISELLE MURISON
COMMITTEE MEMBER
Giselle joined the Overberg Crane Group board in 2021. She currently serves as the Western Cape Estuaries Conservation Project Manager at BirdLife South Africa.
MORE ABOUT GISELLE
Giselle joined the Overberg Crane Group board in 2021. She currently serves as the Western Cape Estuaries Conservation Project Manager at BirdLife South Africa. In this role, she works to improve conservation action at key estuarine Important Bird and Biodiversity Areas in the Cape Floral Kingdom. As such, Giselle works with a number of the OCG's partners, including the Nuwejaars Wetlands Special Management Area and Grootbos Foundation. She is based in Cape Town, and regularly travels to priority bird conservation sites in the Overberg, including the Klein River and Bot-Kleinmond River Estuaries.
MIKE FABRICIUS
COMMITTEE MEMBER
Mike currently works at the Grootbos Private Nature Reserve and manages the Walker Bay Fynbos Conservancy. 
MORE ABOUT MIKE
Mike completed his BSc in Zoology and Entomology at Rhodes University and furthered his studies at Nelson Mandela University to complete a BTech in Nature Conservation. His passion for wildlife and conservation began early in his life bird watching in the Eastern Cape on the banks of the Great Fish River. He has worked in a number of nature reserves in the Cape and is currently Wildlife Ecologist on Grootbos Private Nature Reserve and manages the Walker Bay Fynbos Conservancy. His focus areas in conservation include wildlife monitoring, building ecological corridors, fire management and human wildlife conflict mitigation. 
Mike is an avid photographer, musician, surfer, birding enthusiast and spends much of his time tracking leopards in the mountains with his border collie "Monkey". He became a committee member of the Overberg Crane Group in 2018 and has served on the committee since. 
HOW YOU CAN HELP
You can get involved in conserving our birds in the Overberg.
DEAD OR INJURED BIRDS
Blue Cranes and other birds are often found dead or injured in the Overberg. Please report dead or injured birds to our OCG Extension Officer, Keir Lynch by email to support@bluecrane.org.za or phone 084 369 0969.
REPORT RINGED BIRDS
Hundreds of Blue Cranes have had rings placed on their legs over the years. We use these rings to identify Blue Cranes. With this information, we can learn more about them. If you see a Blue Crane with rings on its legs, please let us know.
SUPPORT
The Overberg Crane Group is the only organisation dedicated to protecting our Overberg's birds, like Blue Cranes and Cape Vultures. We need your help to protect our threatened bird species from possible future extinction.
BIRDLASSER APP
There's a convenient way for bird lovers to note the birds they see – using the BirdLasser app. You can download the BirdLasser app to your cellphone. It's also a great tool for bird lovers to keep accurate records of their sightings