OVERBERG CRANE GROUP COMMITTEE
The Overberg Renosterveld Conservation Trust, BirdLife South Africa, CapeNature, SAB Better Barley Better Beer, farmers and members of the Overberg community are represented on the Overberg Crane Group's executive committee. Many of the members contribute on a voluntary basis.
KEIR LYNCH
OCG CHAIR & EXTENSION OFFICER
Keir is the Project Manager for the Overberg Renosterveld Conservation Trust Watercourse Restoration Project.
MORE ABOUT KEIR
He has worked within the conservation management sector for numerous years at Klaserie, Phinda and Shamwari Private Nature Reserves, as well as the Sanbona Wildlife Reserve. Keir made the move from the private sector to work in the field of landscape conservation with the CapeNature Biodiversity Stewardship Programme, prior to joining the Overberg Renosterveld Conservation Trust in 2015. Keir also provides assistance to the Overberg Crane Group in the form of data collection and extension services.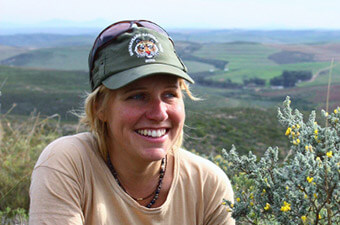 ODETTE CURTIS
COMMITTEE MEMBER
Odette is the founder and Director of the Overberg Renosterveld Conservation Trust working to conserve Renosterveld.
MORE ABOUT ODETTE
She has a PhD in Botany from the University of Cape Town. She has also discovered three new plant species in Renosterveld – two of which have been named after her. But Odette has a strong interest in birds: she managed the Black Harrier & Black Sparrowhawk Projects at UCT from 2000-2006. She is also a former winner of the CAPE Fynbos Conservation Awards, winning in 2014.
DALE WRIGHT
COMMITTEE MEMBER
Dale works as the Regional Conservation Manager: Western Cape at BirdLife South Africa.
MORE ABOUT DALE
He focuses mainly on identifying, assessing and conserving Important Bird and Biodiversity Areas (IBAs), ensuring these are prioritised for conservation action. The conservation action includes obtaining formal protection for IBAs through biodiversity stewardship, developing habitat management guidelines, commenting on protected area management plans and representation on various management forums, amongst many other activities. Dale received his Masters in Conservation Biology, graduating with distinction from UCT in 2010, and was awarded the 'Fynbos Forum Young Conservator of the Year' in 2013. He also spent three years in Tanzania, managing a large protected area and has worked for WWF-South Africa for their Biodiversity and Wine Initiative – providing extension support to wine farmers in the Western Cape.
MICK D'ALTON
COMMITTEE MEMBER
Mick is a co-founder of the Overberg Crane Group, and has been the Chair of the OCG since 2006.
MORE ABOUT MICK
Mick is a farmer who has lived in the Overberg region since the early 1980s. He is also a well-known conservationist, having received the CAPE Fynbos Conservation Award in 2010. Mick is one of the founding members of the Nuwejaars Wetland Special Management Area – a conservation area operating across the landscape in the Overberg.
KEVIN SHAW
COMMITTEE MEMBER
Kevin works for the Western Cape Nature Conservation Board as the District Conservation Officer.
MORE ABOUT KEVIN
Kevin began his career in the then Department of Forestry, working as a planner on the water catchment and drift sand areas of the south western Cape. He progressed to District Forest Officer and later District Conservation Officer, when he was transferred to the then Department of Nature Conservation for the Cape Provincial Administration, which later evolved into the Western Cape Nature Conservation Board, for whom he still works. In 1995 he was appointed as one of two ornithologists for the province and today still continues to operate in this capacity, although as the only ornithologist for the province. He works mainly with high priority species and participates in substantial collaboration with mainly tertiary institutions and non-government environmental organisations. Species that he has worked on and/or is currently working on include Blue Crane, Cape Vulture, African Penguin, Damara Tern, Cape Gannet, Coastal Cormorant species, Waterbirds, House Crow and Mallard. During the early part of his ornithological career, he spent a substantial amount of time getting to grips with the challenges faced by Blue Cranes in an agricultural landscape and how the species has adapted to these challenges. The species therefore remain very dear to him, and where possible he still spends time in the field observing the antics of these special birds and more importantly involved with projects on the species.
SHARON BRINK
TREASURER
Sharon has always been close to nature and spent many years on the committee of the Overberg Botanical Society.
MORE ABOUT SHARON
In recent years, Sharon has been a presenter on local radio stations – including Radio Overberg and Caledon FM. She uses these platforms to create a greater awareness of nature. She is also a wonderful photographer, and many of the photos on the Crane Group website were taken by her. She says, "Photography is another passion and through photography I have learnt a lot more about our birds and the intricacies of fynbos."
JAN COETZEE
COMMITTEE MEMBER
Jan works with barley farmers across the Overberg as the Better Barley Better Beer Project Extension Officer.
MORE ABOUT JAN
The project is supported by SAB and WWF-South Africa. Through this position, he works with partner organisations such as the Overberg Lowlands Conservation Trust and the Overberg Crane Group. Jan previously worked for CapeNature in the Greater Gouritz Corridor and Greater Cederberg Biodiversity Corridor, and as Reserve Manager at the Swartberg Nature Reserve. He also worked for a private environmental consultancy in New Zealand.
DONELLA YOUNG
COMMITTEE MEMBER
Donella has been part of the Overberg Crane Group since 1999 when she began co-ordinating the CAR Project.
MORE ABOUT DONELLA
Donella has been part of the Overberg Crane Group (OCG) since 1999 when she began co-ordinating the Coordinated Avifaunal Roadcounts (CAR) Project at the Animal Demography Unit, Department of Zoology, University of Cape Town. These roadcounts monitor many threatened large terrestrial bird species, including the Blue Crane. Donella teamed up with James Harrison to compile a booklet encouraging farmers to conserve biodiversity on farms and giving trends in numbers of particular species. She has an MSc in Zoology and a teaching diploma, both from UCT. Donella is currently training as a Field Guide, and continues her concern for birds and conservation.
STUART SHEARER
COMMITTEE MEMBER
With the advent of wind energy facilities, Stuart is involved with monitoring Environmental Impact Assessments.
MORE ABOUT STUART
After a working life in medicine, Stuart settled in the Overberg and found the time to rekindle old and latent interests in natural history and photography. With the advent of wind energy facilities in the region, his involvement in monitoring Environmental Impact Assessments naturally evolved from those interests.
HEATHER D'ALTON
COMMITTEE MEMBER
Heather is the co-founder of LoveGreen Communications, a creative consultancy giving a voice to 'green' organisations.
MORE ABOUT HEATHER
She has spent many years in the conservation communications field, working as Communications Manager for Flower Valley Conservation Trust. She previously worked as a journalist in Johannesburg, London and Cape Town, for publications such as MoneyWeek magazine and business television station, Business Day TV.
ANDRAE MARIAS
COMMITTEE MEMBER
Andrae works for CapeNature as the Conservation Services Manager in the Overberg area.
MORE ABOUT ANDRAE
He completed his studies at Cape Peninsula University of Technology. His 13-year working experience took him from the spectacular De Hoop Nature Reserve to managing De Mond Nature Reserve, the most southern estuary in Africa. Andrae says that in helping him to maintain his natural tan, the African sun has always been his umbrella in his day-to-day work.
WICUS LEEUWNER
COMMITTEE MEMBER
As a farmer and highly successful nature photographer, Wicus was naturally fascinated by our Blue Crane.
MORE ABOUT WICUS
He was a motivator in the early 2000s for the formation of the OCG and became a founder member and first Chairman, remaining in that until 2006. Wicus runs a business teaching photography and marketing his photographs – a job that takes him all over South Africa presenting and displaying. Here he always showcases the Blue Crane, raising awareness and creating interest in conserving our national bird.
MALCOLM GORDON
COMMITTEE MEMBER
Malcolm is a retired agricultural scientist and has been serving on the OCG committee since 2005.
MORE ABOUT MALCOLM
Malcolm is a retired agricultural scientist and has been serving on the OCG committee since 2005. His experience with agricultural chemicals has proven very useful in the past, given the threat of poisons to the Overberg's bird life. He has also served as Treasurer since joining the group until the start of 2016 when he relinquished this position.
HOW YOU CAN HELP
You can get involved in conserving our birds in the Overberg.
DEAD OR INJURED BIRDS
Blue Cranes and other birds are often found dead or injured in the Overberg. Please report dead or injured birds to our OCG Extension Officer, Keir Lynch by email to support@bluecrane.org.za or phone 084 369 0969.
REPORT RINGED BIRDS
Hundreds of Blue Cranes have had rings placed on their legs over the years. We use these rings to identify Blue Cranes. With this information, we can learn more about them. If you see a Blue Crane with rings on its legs, please let us know.
SUPPORT
The Overberg Crane Group is the only organisation dedicated to protecting our Overberg's birds, like Blue Cranes and Cape Vultures. We need your help to protect our threatened bird species from possible future extinction.
BIRDLASSER APP
There's a convenient way for bird lovers to note the birds they see – using the BirdLasser app. You can download the BirdLasser app to your cellphone. It's also a great tool for bird lovers to keep accurate records of their sightings