IUCN RED LIST (Global status): Vulnerable
RED DATA BOOK OF BIRDS (Regional status): Endangered
POPULATION
It's estimated that fewer than 600 pairs remain in South Africa, with a few thousand more found in the rest of Africa.
KNOW YOUR MARTIAL EAGLE
Martial Eagles are one of the largest birds of prey in South Africa (and the world). They have a white speckled chest, and a brown head. In flight, the upper parts of their wings are brown, with brown and white bars on the lower parts.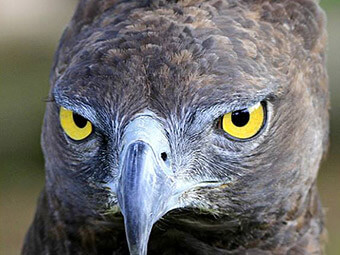 WHERE ARE THEY FOUND?
Martial Eagles occur across much of sub-Saharan Africa.
WHAT HABITAT DO MARTIAL EAGLES LIKE?
Martial Eagles are largely found in areas covered by trees, or bushy grassland. In the Overberg, they are often seen flying above fynbos, but are known to nest in tall trees (often alien trees).
THREATS
These birds are often poisoned (in many cases by accident), are electrocuted on power lines, and are impacted by reducing habitat. There have been cases recorded where birds have been taken and used in the traditional medicine industry.
ACTION TO SAVE OUR MARTIAL EAGLES
So few Martial Eagles are found in the Overberg; so it's helpful for the Overberg Crane Group to know where birds occur, and to monitor them. The Group raises awareness to reduce persecution.
THE IUCN RED LIST OF THREATENED SPECIES/RED DATA BOOK OF BIRDS OF SOUTH AFRICA:
| | | | | | | | | |
| --- | --- | --- | --- | --- | --- | --- | --- | --- |
| Not Evaluated | Data Deficient | Least Concern | Near Threatened | Vulnerable | Endangered | Critically endangered | Extinct in the wild | Extinct |
DEAD OR INJURED BIRDS
Blue Cranes and other birds are often found dead or injured in the Overberg. Please report dead or injured birds to our OCG Extension Officer, Keir Lynch by email to support@bluecrane.org.za or phone 084 369 0969.
REPORT RINGED BIRDS
Hundreds of Blue Cranes have had rings placed on their legs over the years. We use these rings to identify Blue Cranes. With this information, we can learn more about them. If you see a Blue Crane with rings on its legs, please let us know.
SUPPORT
The Overberg Crane Group is the only organisation dedicated to protecting our Overberg's birds, like Blue Cranes and Cape Vultures. We need your help to protect our threatened bird species from possible future extinction.
BIRDLASSER APP
There's a convenient way for bird lovers to note the birds they see – using the BirdLasser app. You can download the BirdLasser app to your cellphone. It's also a great tool for bird lovers to keep accurate records of their sightings